After years of waiting, the predecessor to the Redcat Gen8 has finally arrived. As the proud owner of three Gen8/Gen8 P.A.C.K. rigs, I was thrilled to find out that Redcat was shifting its focus back to trail trucks with the release of the Gen9 International Scout 800A. And I was ecstatic when they shipped a pre-release model my way for review.
So, how does this new trail truck stack up to its predecessors (and the competition)? Let's find out.
What's New?
At first glance, the Gen9 may appear to be a Gen8 AXE with a new paint job, but there's more to it than meets the eye. The Redcat Gen9 is sporting a new Scout model body compared to its predecessor. The Scout 800A is a bit smaller than the Scout II, which allowed Redcat to make some changes to the front and rear bumper setups and improve on the already-impressive approach angle performance of the Gen8.
While the body is new, that's not the only updated feature on this rig. Under the hood (and under the chassis), the Gen9 features a two-speed transmission, V3 portal axles, new tires, wheels, and a new body mounting system, to name a few. If you've owned a Gen8 Scout or P.A.C.K. there are plenty of crossover parts between the generations of Redcat crawler, making it a familiar machine for Redcat fans. Still, you'll find plenty of "newness" on this machine to make it a worthwhile purchase.
The Body
Redcat has certainly raised its game in body design and construction, thanks in part (or in whole) to their R/C lowrider lineup. The Gen9 International Scout 800A body is a multi-part piece that offers a detailed interior and exterior with plenty of room for customization and creativity. The open-cage design allows for an excellent view of the Scout 800A's interior, which features goodies like a steering wheel, shift levers, door handles, and pedals. The only other trail rig that packs in that level of scale detail is the SCX10 III Early Ford Bronco.
Scale goodies are also found on the exterior of the Gen9; however, their durability leaves a bit to be desired. Side mirrors and door handles help add visual interest to the outside of the Scout 800A body, but depending on how hard you drive, they may not last long. One side mirror broke off during shipping, and I destroyed the other after a rollover. I also lost a door handle during a flip. Thankfully, Redcat includes a few extra parts in case you need them.
There are two body color options for the Gen9, a magnificent Metallic Blue and a stunning Graphite. No matter which you pick, you're getting an eye-catching machine. Redcat also includes two decal sheets with a variety of stickers making it easy to put your own spin on this rig, right out of the box. You'll also find a redesigned body mounting system on this rig, making it simple to get to the internals of this rig. Two swivel latches hold the front of the body in place, and releasing them allows the body to be tipped toward the rear and pulled up and off the chassis. It's a nice setup that I find more convenient than the hook-and-loop mounting method on the Gen8.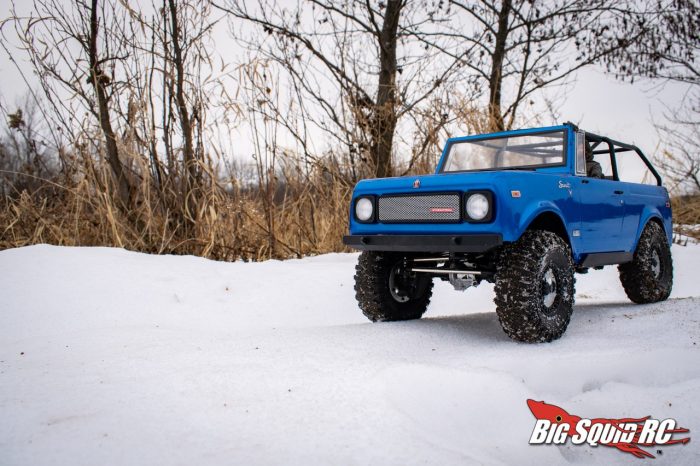 The Chassis
At first glance, it's hard to spot the differences between the Gen9 and the Gen8 chassis. Both feature a "filled-out" setup with full fenders and sideboards, and the motor and transmission are in the same spot. Looking closer, you'll spot the shift servo for the two-speed transmission and the rock light ports set on top of every inner fender. Even harder to spot are the adjustments made to the portal axles to improve durability, tracking, and steering performance.
Although these updates aren't visually impressive, they impact the overall driving experience of the Gen9 Scout. It's also worth mentioning the weight of this truck, which is impressive for a ready-to-run (RTR) model. It's heavy. Quite heavy, but the weight distribution is decent, and I didn't experience many rollovers due to top-heaviness. Rollovers due to speed…well, that's another story.
The biggest performance change between this model and its predecessor is the two-speed transmission. First (low) gear is on-par with the standard gearing of the Gen8. Second (WHOAAAA) gear is just…fun. If you want to start running for exercise, toss a 3S LiPo into the Gen9, put it in second gear, and go. You'll have a near-impossible time catching up with this rig at that speed. While not useful for technical crawling, the ability to shift to a higher gear is great if you're an avid trail fanatic (or want to let loose from time to time).
The Wheels & Tires
Another difference between the Gen8 and the Gen9 is the tire choice. The Redcat team opted to use a 1.9″ version of the Interco Super Swamper SS M16, the same tire found on their 1/8-scale TC8 Marksman. I like this change and have found this new tire to have incredible traction and bite, both while crawling and during normal trail use. The wheels also received an update, featuring a faux outer beadlock ring for added scale decoration.
The Radio (Transmitter and Receiver)
The Gen9 features a new transmitter design that offers four control channels for your trail rig. Only three channels are active out of the box, but you can easily add a fourth and have the ability to control it without much extra setup. In stock configuration, the third channel controls the two-speed transmission servo. The auxiliary channel buttons are easy to find and use and illuminate when activated, so you can easily tell what gear you're in.
I found this transmitter comfortable during use, not too heavy, and not too light. The steering wheel is just close enough to thumb-steer, but you may want to add a thumb-steer stick if you're serious about one-handed driving.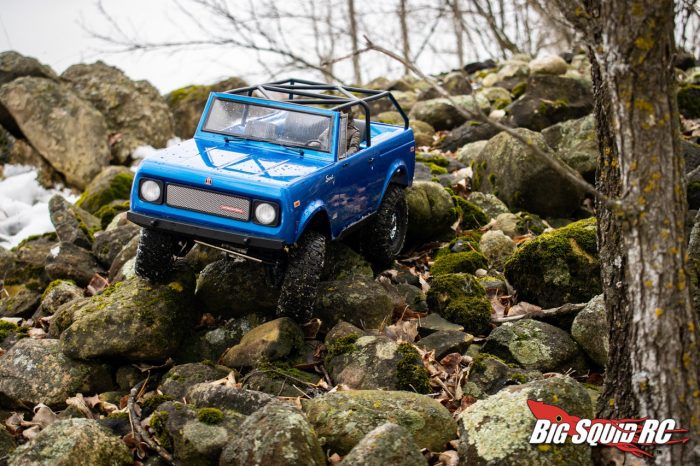 Crawling and Trail Performance
For as good as this truck looks, you learn to enjoy it once it hits the trail. The weather during my test of the Gen9 Scout 800A ran the gamut between cold and snowy to cool and still snowy. Yes, there was plenty of snow on the ground when I reviewed this rig, but that didn't matter, as it took everything in stride. Overall performance is very similar to the Gen8, so there wasn't much of a learning curve concerning how the vehicle would react in certain situations.
The first new feature I had to try out was the two-speed transmission. Running a 3S LiPo, first gear lent itself to smooth, low-speed crawling. Kicking things up a notch, second gear was just crazy. Despite its weight, this rig can move. Running full throttle over ice and snow made for some interesting, white-knuckle moments, which all played out well. There were a few instances where full-speed slides quickly turned into acrobatic tumbles, but the rig made it through mostly unscathed.
When the trail led me toward rocks, I had the perfect opportunity to test out the crawling performance of the Gen9. The 1.9″ Interco SS M16 tires don't have as deep a tread as the previous model, making them easier to pack with snow and slush. Presented with reduced traction, this rig still made its way up and over obstacles with relative ease. I can only imagine drier conditions being even better for this machine.
What's the Verdict?
Putting aside my love for the Scout and Redcat's crawler lineup, this is an impressive machine at an impressive price. For $399.99, you get a capable crawler and trail truck that includes features found in models with higher price points. While not perfect, this is a great 1/10-scale rig for getting outside and driving. Take it the yard, or trek onto the trail for an adventure; no matter the occasion, you're bound to have fun.
If you're partial to scale detail, the Gen9 offers plenty of room for customization. Whether you use the included decal sheet or choose to come up with your graphics, there's no shortage of ways to personalize this trail truck and make it appear even more realistic than it already is. Solid performance meets stunning visuals. I'd call that a win-win.
Learn more about the Redcat Gen9 International Scout 800A at redcatracing.com.
Click Here for more Redcat Racing news on BigSquidRC.
credit :Source link